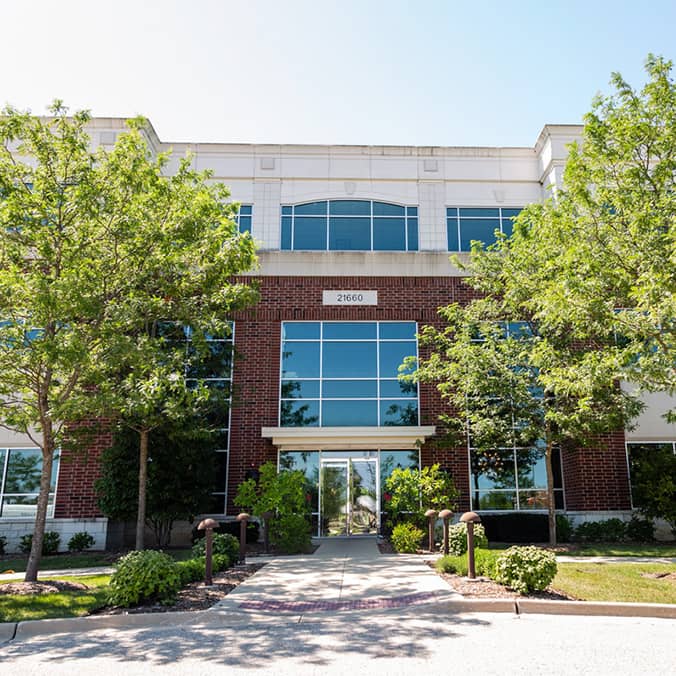 Oral Facial and Implant Specialists is proud to serve the village of Deer Park and the surrounding communities of Lake County with high-quality oral and facial surgical care. Deer Park is a tight-knit community in the suburbs of Chicago, surrounded by large areas of natural beauty but close to many great amenities. Our community is situated next to the lush Cuba Marsh forest preserves, granting us access to parks and green areas, which our residents love.
Boasting a luscious, park-like setting and more than 70 high-end retail shops and restaurants, the Deer Park Town Center at Rand and Long Grove Road is an ideal destination for those seeking an enjoyable shopping experience. Shop and dine at some of the leading retailers and restaurants, such as Lululemon, Sephora, Biaggis Ristorante Italiano, and more.
If you prefer the outdoors, take a leisurely stroll around the nearby Lake County Forest Preserves. Embrace the beauty of nature and get in some physical activity with 209 miles of trails available for hiking, jogging, biking, horse-riding, cross-country skiing, or snowmobiling. Or simply sit back on a trailside bench to admire the scenery in forest preserves throughout the county!
Deer Park Oral Surgery
At Oral Facial and Implant Specialists, we are proud to offer Deer Park families a full range of oral and facial surgical care services. Our team is made up of highly trained professionals who specialize in dental implants, bone grafting, wisdom teeth removal, oral pathology, and more.
We understand that dental procedures can be a stressful experience, so our surgeons will take the time to explain what your procedure entails and answer any questions you have. Our team is dedicated to ensuring that each of our patients gets the personalized care they need and deserve.
If you're in need of a dental implant, Oral Facial and Implant Specialists is the place to go. We are proud to offer our Deer Park patients high-quality dental implants that last. Dental implants can be used to replace missing teeth or for dental bridges and dentures. Our dental implants are designed to look, feel and function like natural teeth. From single implants to full mouth reconstructions with All-on-4 implants, our team is skilled in helping you get the perfect fit for your smile.
Bone grafting is a complex procedure that's often needed for dental implants. Our team of experts can perform ridge augmentations, sinus lifts, and socket preservation procedures. We use the latest in dental technology and advanced techniques in order to ensure that your bone grafting surgery is successful and you get the best possible outcome.
Wisdom tooth removal is often needed for patients suffering from impacted wisdom teeth. Our oral surgeons can help you determine if you need to have your wisdom teeth removed, and we offer the latest in surgical techniques and technologies to ensure that the procedure is as comfortable and successful as possible. Don't let wisdom tooth pain and discomfort keep you from enjoying your life! Contact us today to learn more about our wisdom tooth removal services.
The maxillofacial region is a complex area that requires special care and attention. Our team of specialists are experts in the diagnosis and treatment of tumors, cysts, and infections. Early detection is key when it comes to oral pathology – so don't hesitate to call us if you're experiencing any unusual pain or discomfort in your mouth. We offer comprehensive oral pathology services, including diagnosis and biopsies.
Many of our patients suffer from temporomandibular joint (TMJ) pain and dysfunction. Our TMJ treatment services include Botox injections for TMJ, which can help alleviate the discomfort associated with this condition. Botox has been shown to be effective in treating chronic headaches and muscular pain caused by a misaligned jaw. We will work with you to create a custom treatment plan that ensures the best possible outcome.
For many children and adults, tongue ties or lip ties can cause speech impediments, difficulty in breastfeeding, oral hygiene problems, and other issues. We offer a range of frenectomy procedures to help correct these conditions. We perform minimally-invasive treatments using Co2 lasers and other advanced techniques to help restore normal function.
We know visiting the dentist or oral surgeon can be a stressful experience, so we offer different levels of sedation to help ease your anxiety and ensure you're comfortable during your procedure. We offer nitrous oxide (laughing gas) and IV sedation, depending on the complexity of your treatment and your level of anxiety. Lets us make your visit a breeze, speak to us about your sedation options today.
The Best Oral Surgeons in Deer Park
At Oral Facial and Implant Specialists, we are proud to offer our Deer Park patients a comprehensive range of oral surgery services. Our experienced team is passionate about providing the best care and ensuring that each of our patients leaves smiling. Contact us today to learn more about how we can help you get the dental care you need! If you are looking for the best oral surgeon in Deer Park and Barrington or an oral surgeon near me, call us at (847) 381-0106 or complete the online booking form for a free consultation.
Call Us